Asparagus
---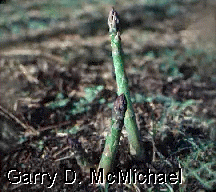 The Arc Institute
Asparagus beds will be productive for 20 years or more. They cannot be harvested until the second year. The male plants produce asparagus spears, but both male and female plants are needed to produce seed. Plant 18" apart, in rows 4-5' apart.
Asparagus needs a dormant period (overwintering) to complete their cycle. They need constant and cold temperatures. The usual method is to allow the seedlings to go dormant and then place them in a one foot deep hole with only a few inches of soil covering their crowns. More soil is added once they sprout up in the Spring. Asparagus doesn't mind a hard soil freeze. If you want to be sure they will be OK, you can mulch them ahead of the freeze once they have died back completely.
Another point about asparagus: they tend to give out after 20 years and then require replanting. If you are growing both male and female plants, you will never have to worry about replanting, instead you will have asparagus everywhere! Most gardeners grow only males. Asparagus can be propagated by division and this division can help to overcome their 20 year limit. Just dig up the crowns once they die back in the fall and carefully break them into a few divisions (like flower bulbs, etc.) and replant. Propagation in this way eliminates the two year wait for good viable eating stalks. Also the males tend to have thicker stalks and one can harvest stalks from males longer than the females. After awhile the stalks get thinner and fewer and you have to stop picking them lest you kill off the plant!.
Offered by Roger.